Paying Annual Dues Using PayPal Guest Checkout
If you do not want to create a PayPal account, you can use this website to make a payment using your credit or debit card using PayPal Guest Checkout.
Steps for Using PayPal Guest Checkout
Step 1 – Go to the Annual Dues page.
Step 2 – Scroll down to the Pay with PayPal section of the page.
Step 3 – Select the dues year that you want to remit. By default, the most current dues year owed is displayed on the top.
Step 4 – Click on the Add to Cart button. This will open a new browser tab with the PayPal Shopping Cart.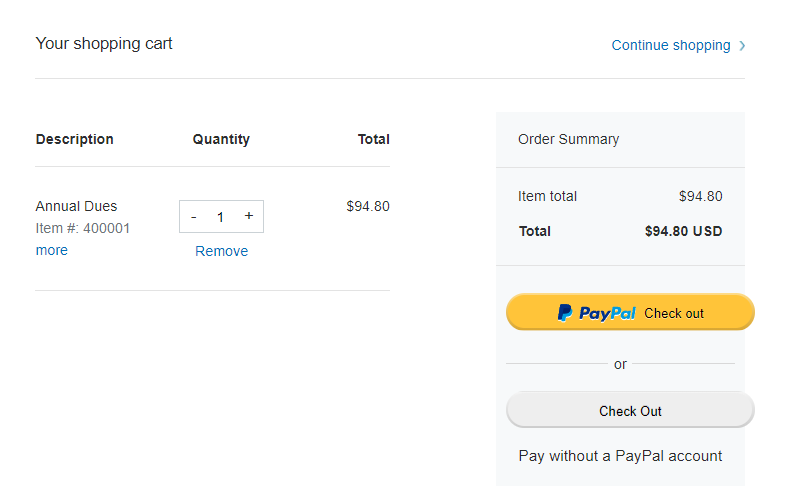 Step 4.a – If you need to pay for multiple years, click on the "Continue Shopping" link. This will return you to the Midvale Masonry web site. Then click on "Annual Dues" and select a different year to submit, then click the Add to Cart button. Note: If you accidentally add the same dues year, in the PayPal shopping cart, you can change the quantity back to "1".
Step 5 – Click on the grey Check Out button to pay without a PayPal account. This will open the Guest Checkout page. This is like any other eCommerce website where you need to provide credit or debit card information.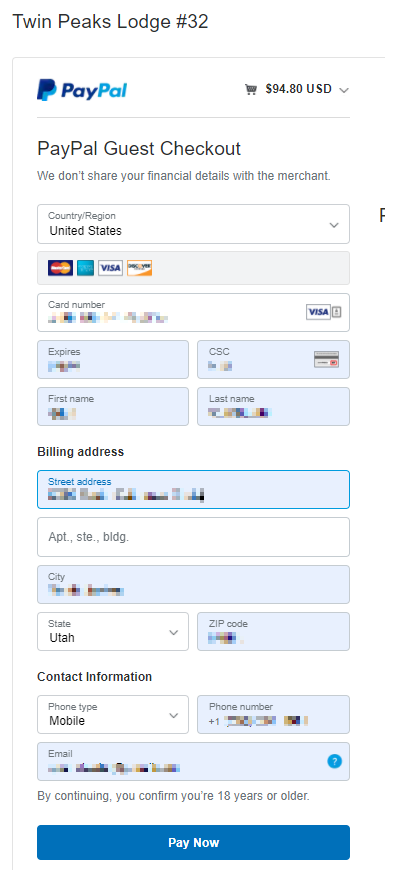 Step 6 – Click the Pay Now button.
Step 7 – You will see the Order Confirmation page and you will also be notified that an email will be sent to the address you provided.
Very shortly thereafter, the Lodge secretary will get a notification through the Twin Peaks Lodge PayPal account that you have submitted your payment. The Secretary will see the following information. As you can see, he will know which dues year you paid for, what the amount was, who the payment was received from, and how much the Lodge will actually receive after processing fees have been debited.