September 2023 Trestleboard

The Trestleboard is an official publication of Twin Peaks Lodge No. 32, which is a legally constituted Masonic Lodge operating under charter granted by the Most Worshipful Grand Lodge of Free & Accepted Masons of Utah. The Trestleboard is published for the sole and exclusive use of the members of Twin Peaks Lodge No. 32, and any other use is expressly forbidden.  The editor of The Trestleboard is Glen Van Steeter.  Submissions of educational articles or other announcements may be sent to the editor at [email protected], and if selected for publication, will be given full attribution. All submissions are subject to the approval of the Worshipful Master of Twin Peaks Lodge No. 32 and the editor of the Trestleboard.
September Calendar
Monday, September 4 – Labor Day Holiday. No Lodge. Enjoy the rest from your labors!
Monday, September 11 @ 7:30pm – September Stated Meeting. Dinner beforehand @ 6:30pm. We will have a number of business items to conduct.
Monday, September 18 @ 7:00pm – Degree Practice. We have a number of degrees coming up!
Monday September 25 @ 7:00pm – Meetup at Chubby's Restaurant in Riverton
Saturday, September 16 @ 6:00pm – Ladies Appreciation Night. See more details below!
Saturday, September 23 @ 8:00am – Volunteering at the Utah Food Bank
Saturday, September 30 @ TBD – Touring the Old Testament Tabernacle in Highland, Utah.

Sickness and Distress
Bob and Kathleen Hartman
Kathleen Hartman successfully underwent a life-changing lung transplant last month. Worshipful Brother Robert Hartman has been keeping us informed of her progress. The transplant went well and she has been making a swift recovery. Although she has encountered a few minor complications that medical professionals are diligently addressing, Kathleen's overall progress is truly inspiring. We remain optimistic that she will continue to thrive on her recovery to improved health.
Contribute to Kathleen Hartman
Miles Crockett
We are deeply saddened to share the news of the untimely passing of Brother Miles Leon Crockett who passed away suddenly and unexpectedly on July 17, 2023. Our hearts are heavy as we mourn this sudden loss. Brother Miles was a beloved son of Worshipful Brother Leon Crockett. During this difficult time, our thoughts and prayers are with the grieving family. We understand that there is no solace in mere words, but please know that our love and support surround you. In the coming months, the family will be organizing a celebration of Brother Miles' remarkable life and accomplishments.
Read Miles Crockett's Obituary
Ephraim Sng
I was recently let go from my job and unsure of what the future holds. I am trying to remain optimistic but I must admit it is a struggle at times. Your support and prayers are appreciated during this time.
Please keep these brethren and their families in your thoughts, and add them to your daily devotions to the Grand Architect.
If you happen to hear about a brother who is in distress, please contact either the Worshipful Master or the Lodge Secretary ASAP so that the Lodge can put itself in a position to assist.

FROM THE EAST
I had the opportunity to go to the Rocky Mountain Masonic Conference in Las Vegas back in July. It was good to meet brothers from other jurisdictions and discuss what worked well for them and what we could learn. There were several ideas I really liked in terms of making educational engaging, encouraging personal development, and community involvement ideas.
In terms of application to Twin Peaks Lodge, I feel we are on a great path. We have seen a lot of success this year. I think this can be seen in the interest we have seen in our lodge and the steps we are making to improve as individuals and as a lodge.
Brethren, please make every effort to come out to our meetings for the rest of the year. We expect to read multiple petitions in September and will vote on them in October. We are also voting on an update to our dues structure to ensure our lodge is financially sound. We need your help in being a part of the degrees and coaches to these new men joining.
Your Brother on the Square,
Ephraim Sng, Worshipful Master


Masonic Anniversaries
These brethren were raised to the Sublime Degree of Master Mason in the month of August & September.
Brother Lawrence McGill raised on August 10, 1965 and has 58 years of service.
Brother David Burleigh raised on September 23, 1999 and has 10 years of service.
Brother Spencer Forman raised on September 30, 1999 and has 4 years of service.
Most Worshipful Brother Keith Odendahl raised on September 9, 1999 and has 48 years of service.
Brother Daniel Overman raised on September 28, 1999 and has 25 years of service.
Brother Jaysen Roundy raised on September 27, 1999 and has 10 years of service.
Worshipful Brother Kevin Tucker raised on September 30, 1999 and has 18 years of service.
Happy Birthdays!
These brethren were born in August and September. Make sure and wish them a "Happy Birthday!" when you see them this month!
Worshipful Brother Glen Van Steeter celebrates his birthday on August 2
Brother Frank Keller celebrates his birthday on August 14
Brother Robert Denning celebrates his birthday on August 27
Brother Richard Hunt celebrates his birthday on August 30
Brother Jerry Acton, Sr celebrates his birthday on September 25
Brother Eugene Tenney celebrates his birthday on September 1
Worshipful Brother Robin Winslett celebrates his birthday on September 8
Brother Robert Shearer celebrates his birthday on September 10
Brother Stephen Sumbot celebrates his birthday on September 11
Brother David Burleigh celebrates his birthday on September 12
Brother George Auer celebrates his birthday on September 15
Brother Jason Dyckman celebrates his birthday on September 15
Worshipful Brother Ephraim Sng celebrates his birthday on September 17
Brother David Birch celebrates his birthday on September 18
Brother Jared Sanford celebrates his birthday on September 18
Brother Mark Bisaillion celebrates his birthday on September 24

Report on Past Events
Esoteric Night
We have been having good esoteric education on the 5th Monday of the month. We have covered a majority of the Entered Apprentice Degree. Come out and join us for the next one on the 5th Monday.
Candidates Night
We had a very successful candidates night with 15 guests in attendance including potential candidates and their spouses. We were happy to explain a little bit about the tenants, benefits, and symbols of Freemasonry. It was well received and know we will have well prepared candidates in the near future!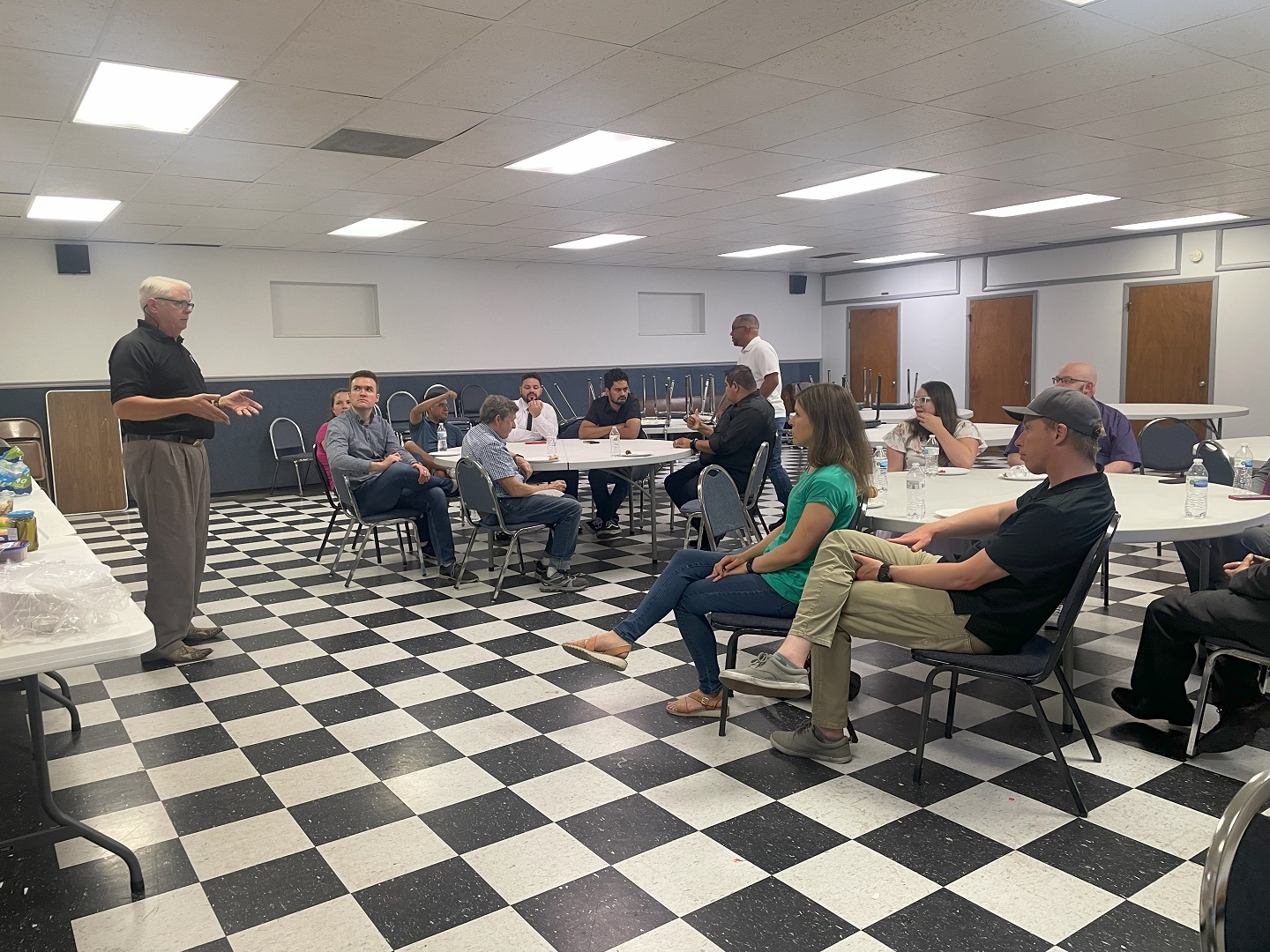 Worshipful Brother Robin Winslett !
Worshipful Brother Robin Winslett was installed as the Worshipful Master of Tucker Lodge #297 in Galveston, Texas. We congratulate him and wish him all the best in his year in the East. We know you will serve the craft well!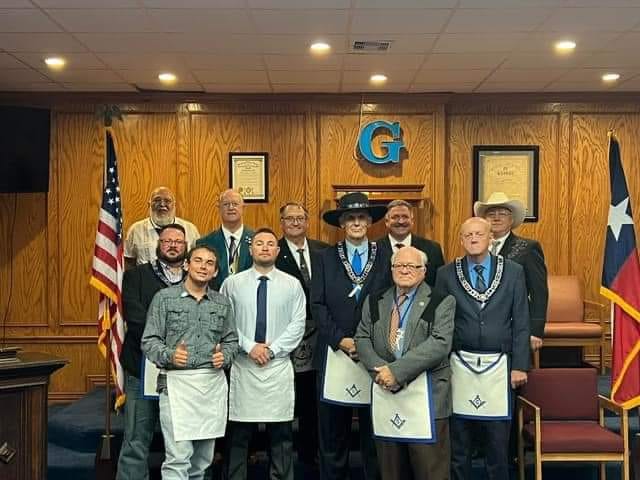 Upcoming Events
Ladies Appreciation Dinner
We are delighted to announce a truly special evening in honor of the remarkable women who stand steadfastly by our sides as we pursue our Masonic endeavors. It is with great pleasure that we invite you to join us for the Twin Peaks Lodge #32 Ladies Appreciation Dinner, an elegant and heartwarming event to celebrate the invaluable contributions of our beloved wives, partners, and significant others.
This evening will be a grand tribute to the strength, support, and unwavering dedication our ladies provide, allowing us to fulfill our Masonic duties. Their patience, understanding, and sacrifice do not go unnoticed, and it's time we show our heartfelt appreciation.
Join us for an elegant dinner at Sicilia Mia in Holladay, Utah on Saturday, September 16 at 6:00pm. Gourmet Food, tableside service, and good company. Dress is formal.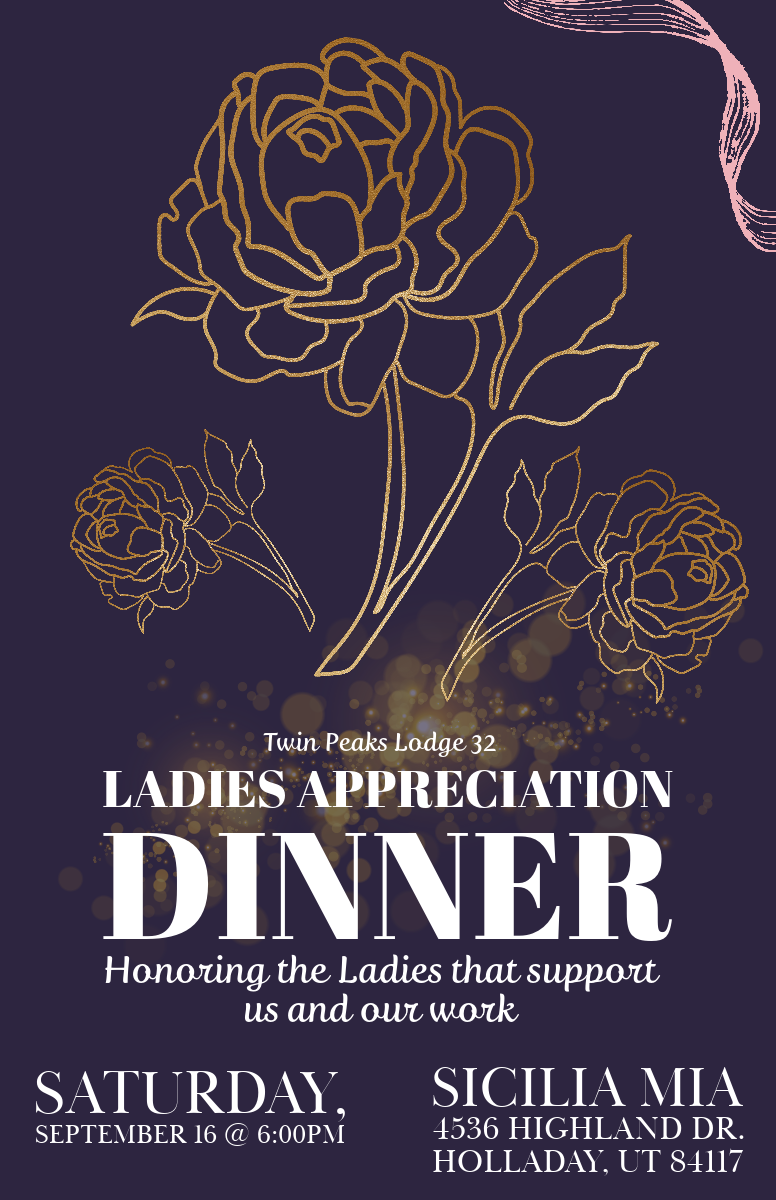 Old Testament Tabernacle
We will be touring a life sized model of the Old Testament Tabernacle on Saturday, September 30. The tabernacle is mentioned in the Entered Apprentice Degree and is related to the form the a lodge. It will be a great educational expeirnece to see a model in person. https://www.tabernacleutah.com/

Educational Feature!
George Washington's Rules of Civility
Worshipful Brother George Washington's standing in not only the United States of America, but in the eyes of the world, is supreme and exists at a level commensurate with only a handful of other men. He was a soldier, a statesman, a spymaster, a farmer, a landowner, and yes, lest one forget, an owner of slaves. For much of our history, our popular impression of this mere mortal man diefied him to the point where he could do no wrong. But has been said by poets and philosophers, the true measure of any human is not just in those things in which they excel, but more importantly to be found in their failings and how they responded.
By sixteen years of age, Washington had copied out, by hand, 110 rules of Civility and Decent Behavior (in Company and Conversation). These were strongly influenced by a Codex, or set of rules, composed by the French Jesuits near the end of the 16th Century, and then later translated into English, it is held, by Francis Hawkins, a doctor's son.
These civilities and courtesies were expected of those of high station and as such were followed by various degrees of fidelity by the aristocracy and the high ecclesiastic hierarchy. As such, these dictums of behavior were expected to be observed by equals or near-equals. It would not be surprising, if you could somehow travel back in time to the courts of Europe prior to the Rennaissance, that these courtesies were not extended by noblemen and high churchmen to the lower classes, for they were not deemed worthy. Note that the original codex was written and compiled by Jesuits, a particular branch of the Catholic Church.
Although George Washington was a member of the landed class, the son of a wealthy landowner and in his time to become one in his own right, it is evident from his writings and those who observed him, that he did not uphold class distinctions (with the exception of owning slaves). To him, the blacksmith who toiled at the forge and anvil, the carpenters and furniture makers who made colonial living more comfortable and convenient, the talented craftsmen such as silverwrights, glaziers, wainwrights, cobblers and others, were worthy of respect for their knowledge, talent and skills. As Parson Weems said, who was one of those who created the "cult" of George Washington, "no wonder everybody honored him (Geo. Washington) who honored every body."
Amongst the many accomplishments of Washington is that he was also a Freemason. Initiated: November 4th, 1752; Passed: March 3rd, 1753; Raised: August 4th, 1753, all in Federicksburge Lodge in Fredericksburg, Virginia. He was in his early twenties. Freemasons today recognize many of the influences of the teachings of the Three Degrees of Masonry in Washington's writings and his actions as recorded in history. Let no one forget that when Washington was offered the kingship of the United States, he refused it. Nor forget that when John Adams was pushing Congress to grant the title of "Excellency" to the office of the President, George Washington insisted that "the Honorable Mister President" was sufficient. And when the possibility of being elected to a third term of office as President, he stepped aside to live his few remaining years as a gentleman farmer at Mount Vernon, his plantation. When King George the Third of Great Britain had heard from Benjamin West that Washington had voluntarily resigned his commission as General of the Continental Army, and had refused to accept the title and office of King in gratitude for his service, it is recorded that George III said that "If he does that, he will be the greatest man in the World." Such was the humility that this great man possessed.
The Rules
There are 110 of these rules. Not all of them are relevant in the Twenty-First Century, and not a few of them were so specific to military or courtly behavior that they need not be mentioned here. But for Masons, as well as for those of the regular citizenry of our Great Nation, here are some of those rules, which if they were more closely adhered to, might make for a happier and less discontented (or at least disagreeable) people.
Rule the First: Every action done in company ought to be with some sign of respect, to those that are present.
Rule the Third: Show nothing to your friend that may affright them.
Rule the Fifth: If you cough, sneeze, sigh or yawn, do it not loud but privately; and speak not in your yawning, but put your handkerchief or hand before your face and turn aside. Hmmm, this could have been useful during the pandemic.
Rule the Fourteenth: Turn not your back to others especially in speaking, jog not the table or desk on which another reads or writes, lean not upon anyone.
Rule the Nineteenth: Let your countenance be pleasant but in seriour matters, somewhat grave.\
Rule the Twenty-first: Reproach none for the infirmities of nature, nor delight to put them that have in mind thereof. Unpack this! Those that of that are blessed with good health and no deformities of mind or body should always display kindness to those that are not so fortunate. Can we say "Shriner's Hospitals", "Scottish Rite Learning Centers", "York Right Seeing-eye Dog Foundations", anyone?
Rule the Twenty-second: Show not yourself glad at the misfortune of another though he were your enemy.
Rule the Twenty-fourth: Do not laugh too loud or too much at any public spectacle. Yeah, I have troubles following this rule. <sigh>
Rule the Thirty-sixth: Artificers & persons of low degree ought not to use many ceremonies to lords or others of high degree but respect and highly honor them, and those of high degree out to treat them with affability & courtesy, without arrogance. Think upon this, for it is the basis of many of George Washington's behavior towards others while he was President.
Rule the Forty-fourth: When a man does all he can though it succeeds not well blame not him that did it. I find this to be one of the most useful. As long as a person makes honest and diligent effort in the tasks assigned to them, or in others words, "does their best", then consider what obstacles stood in their way and whether or not the task could have been accomplished by anyone.
Rule the Forty-fifth: Being to advice or reprehend anyone, consider whether it ought to be in public or private; presently, or at some other time in what terms to do it and in reproving show no sign of choler but do it with all sweetness and mildness. People are not animals. We do not, or ought not, to "rub their noses in it", but instead to take the time to clearly define the desired behavior, how they failed, why its important, and define a time-span in which the behavior is expected to be corrected, doing all of this in the manner of a teacher to a student.
Rule the Forty-eighth: Wherein you reprove another be unblameable in yourself; for example is more prevalent than precepts. Another way to say this is to not ask anything of anybody that you have not done, or are unwilling to do, yourself.
Rule the Fifty-sixth: Associate yourself with men of good quality if you esteem your own reputation; for 'is better to be alone than in bad company.
Rule the Sixty-fifth: Speak not injurious words neither in jest nor earnest scoff at none although they give occassion. How many of our politicians fail at this great policy. I refer to this as the "It is possible to disagree without being disagreeable" rule. It is OK to have a different opinion. It is NOT OK to do injury, by words or deeks, to those who merely disagrees with you.
Rule the Seventieth: Reprehend not the imperfection of others for that belongs to parents, masters and superiors. This is a corollary to Rules 45 and 48. If the fault of an individual is not in their diligence or their zeal, but instead is in their training or upbringing, then your task is to EDUCATE, not reprehend.
Rule the Seventy-third (in part): Think before you speak… 'nuff said.
Rule the Seventy-ninth: Be not apt to relate news you know not the truth thereof.
Rule the Eighty-second: Understake not what you cannot perform but be careful to keep your promise. As a practical matter, if you are asked to complete some task that you do not know how to complete, you should not take it. If you are able but you are unwilling, you should let your unwillingness be known. But once you have agreed to take upon yourself the task, you should not fail to complete it.
Rule the Eighty-ninth: Speak not evil of the absent, for it is unjust.
Rule the One-hundred and Tenth: Labor to keep alive in your breast that little spark of celestial fire called conscience.
Looking at these rules in total, they can be summed up in this way. Be friendly and affable in all your conversations and transactions. Do not assume fault in the failures of others rest upon them alone, for they may not have been properly taught. Be glad of your fortune and pity misfortune in others. If all of our society lived by these rules, many of them based upon the teachings of our Fraternity and the Scriptures that underly them, the world would truly be a happier and more pleasant place.
Fraternally submitted,
Glen Van Steeter, PM