The Trestleboard is an official publication of Twin Peaks Lodge No. 32, which is a legally constituted Masonic Lodge operating under charter granted by the Most Worshipful Grand Lodge of Free & Accepted Masons of Utah. The Trestleboard is published for the sole and exclusive use of the members of Twin Peaks Lodge No. 32, and any other use is expressly forbidden.  The editor of The Trestleboard is Glen Van Steeter.  Submissions of educational articles or other announcements may be sent to the editor at [email protected], and if selected for publication, will be given full attribution. All submissions are subject to the approval of the Worshipful Master of Twin Peaks Lodge No. 32 and the editor of the Trestleboard.
March Calendar
Saturday, March 4 @ 8:00am – Brothers from the Lodge will be traveling to Portneuf Idaho for their Master Mason Degree. Contact Lyle Millar if you're interested in attending.
Monday, March 6 @ 7:30pm – Stated Meeting. Dinner will be served at 6:30pm prior to the meeting. Dress is business. This will be a step up meeting.
Saturday, March 11 @ 8:00am – Volunteering at the Utah Food Bank
Monday, March 13 @ 7:00om – Fellowcraft Degree Practice
Monday, March 20 @ 7:00pm – Fellowcraft Degree
Monday, March 27 @ 7:00pm – Monthly meetup dinner at Archibalds at Gardner Village. Come join the Lodge for good company, conversation, and food. Family, friends, and guests are invited.

Sickness and Distress
Fortunately, I believe all brothers and families are in overall good health. Let's express our gratitude and keep it that way!
Please keep these brethren and their families in your thoughts, and add them to your daily devotions to the Grand Architect.
If you happen to hear about a brother who is in distress, please contact either the Worshipful Master or the Lodge Secretary ASAP so that the Lodge can put itself in a position to assist.

FROM THE EAST
This past month I was reminded how Freemasonry is a journey. Some of us are just beginning as new candidates asking their first questions; Some of us have been involved for a few decades. But all of us are still on that journey at one stage or another. Can any of us truly say we have learned all there is to learn?
I am reminded of a time a few years ago while I was talking to someone, who stopped and said, "you don't have to tell me, I know EVERYTHING." It immediately killed the conversation. How can you converse with someone who thinks they know "EVERYTHING?" As I reflected on the situation, I came to the conclusion that humility, is directly correlated to how much we learn, and how fast.
It is what I find so satisfying about Freemasonry, is that there is so much to learn – an endless well from which to drink. Not only of the memorization work, as that only barely scratches the surface. But of the symbology, the life lessons, and the practical application of those lessons. It truly has it all.
These past few months we've had a number degrees which included brushing up on the memorization work. After all these years, I still feel it has so much more to give in it's beautiful details. The 'G' lecture made me delve more into the mathematics and geometry of the degree. It made me think about the beauties of nature, of the cycles of the universe, and our place in it.
I've studied more Hebrew and the Masonic words that derive from them. How are they written and pronounced in Hebrew? I've looked into the Jewish customs which give context into the Masonic traditions. How was the parable of Jacob's ladder taught and the progressive virtues? In the Apron Lecture, we quote Matthew 25:21 from the New Testament. What is a talent? How much did it weigh? What was the relationship to a day's work? Can we draw any connections in how we operate our lodges?
In practical matters, I found a TEDTalk that intrigued me in the points of public speaking that capture a listener's attention. What could we learn to better deliver our lectures and degrees? https://www.youtube.com/watch?v=8S0FDjFBj8o
These symbolic and practical lessons extends to relationships as well: How we treat one another and how we work together. In working together, we realize that no brother is perfect (especially ourselves.) In our efforts to become better men, we sometimes become painfully aware of this fact. But it warms my heart that we can use the trowel and apologize and forgive one another of our shortcomings.
These are the many things that makes Freemasonry a beautiful system of morality. All of us were drawn to it – inspired in some way to take that step make Masonry a part of our lives. Twin Peaks is on a great path forward. Thanks for being a part of it.
On the Square,
Ephraim Sng, Worshipful Master


Masonic Anniversaries
Holy Moly that's a lot of Anniversaries! March is a month of raisings! These brethren were raised to the Sublime Degree of Master Mason in the month of March.
Brother Brandon Albrecht, raised on March 12, 2012 and has 11 years of service.
Brother Bretton Crockett, raised on March 18, 2005 and has 18 years of service.
Worshipful Brother Leon Crockett, raised on March 20, 2004 and has 19 years of service.
Brother Robert Denning, raised on March 28, 1983 and has 40 years of service.
Brother John Kaddas, raised on March 31, 1980 and has 43 years of service.
Brother Frank Keller III, raised on March 26, 2012 and has 11 years of service.
Brother Chris Kingsley, raised on March 30, 2000 and has 23 years of service.
Worshipful Brother Ed Kordas, raised on March 13, 1999 and has 24 years of service.
Brother Michael Martin, raised on March 21, 2016 and has 7 years of service.
Brother James Martin, raised on March 16, 1967 and has 56 years of service.
Brother Christopher Rogers, raised on March 29, 2003 and has 20 years of service.
Worshipful Brother Robert Shearer, raised on March 28, 1977 and has 46 years of service.
Most Worshipful Brother James Wadley, raised on March 26, 1979 and has 44 years of service.
Happy Birthdays!
These brethren were born in March. Make sure and wish them a "Happy Birthday!" when you see them this month!
Brother Michael Hartman, born on March 12.
Brother Sam Korologos, born on March 12.
Brother James Martin, born on March 7.
Brother Lawrence McGill, born on March 24.
Brother Daniel Overman, born on March 16.
Brother Craig Smith, born on March 11.

Christopher Diehl Administrative Excellence Award
A big congratulations to our very own secretary, Worshipful Brother Glen Van Steeter, who was awarded the Christopher Diehl Administrative Excellence Award the Grand Lodge Banquet this past month. Anyone who's been in masonry knows that a good Secretary is essential to running a good lodge. I've aways said that we had the best secretary around. This just officializes it. Congratulations Glen! Well deserved!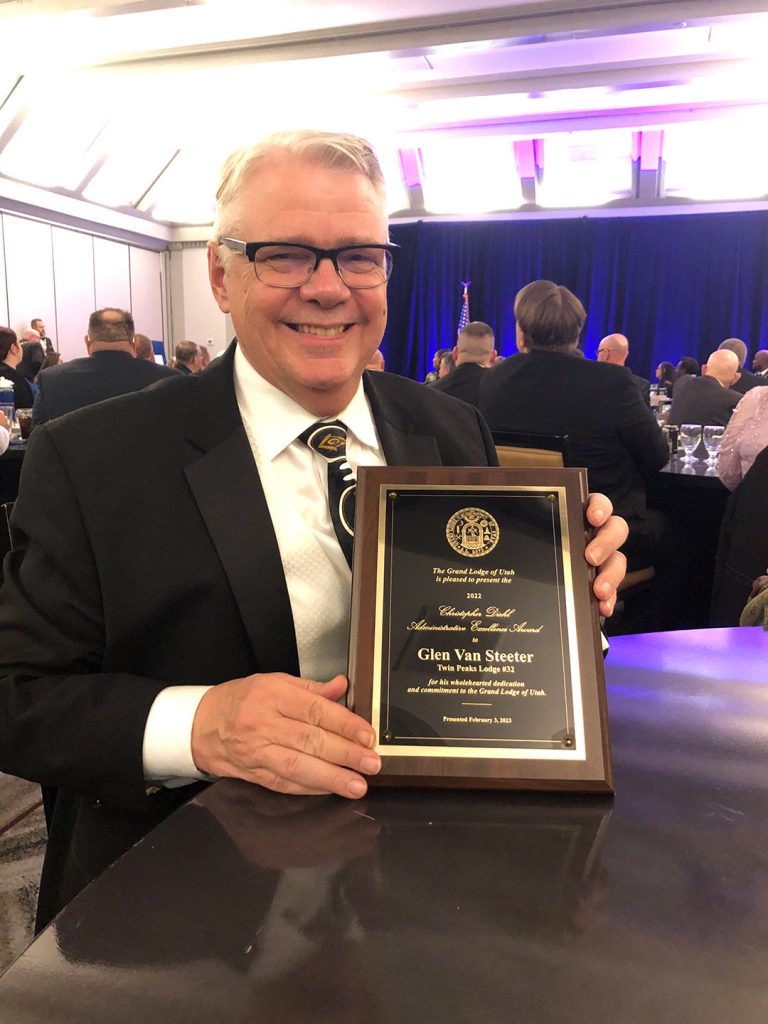 Master Builder Award
Twin Peaks Lodge #32 was one out of only six lodges in the entire jurisdiction to be awarded the Master Builder Award. This was an effort put in by all the brothers. We worked hard, and had fun! Congratulations on a job well done last year! We are going to do it again!
Welcome our Newest Entered Apprentice
Welcome to our newest Brother in Twin Peaks Lodge. He is very excited to be a part of our lodge and begin his journey in Freemasonry!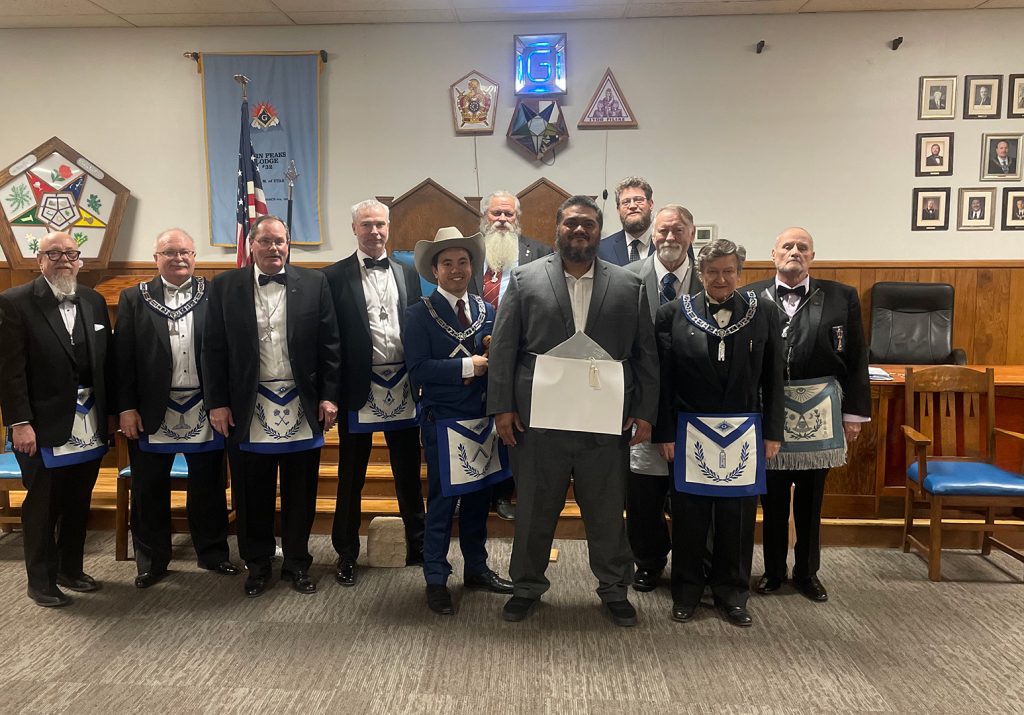 Lodge Improvements
We are trying a few new things in the lodge. We introduced the idea of a projector to shine the clouded canopy, or star-decked heavens onto the ceiling to make the degree that much more dramatic and impressive.

Grand Lodge of Idaho Portneuf Master Mason Degree
We had a great time visiting our Brothers in Idaho last year attending their exemplification of the Master Mason degree in full costume with additional drama, music, and props. It was an experience! We are planning to go again this year on This Saturday, March 4th. Please contact Worshipful Brother Lyle Miller if you're interested in going.
Meetups
Masons at Work Picnic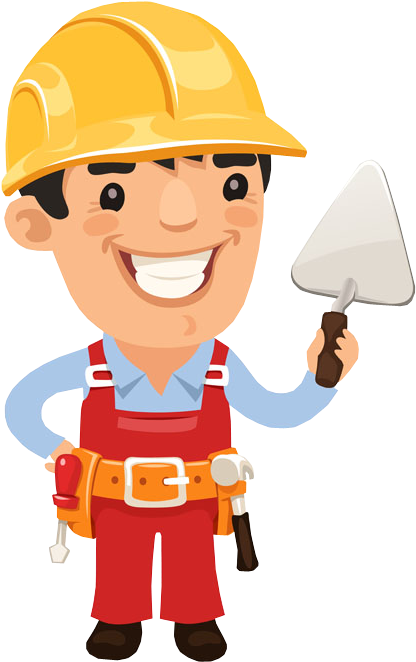 This incredible family-oriented event will be held on June 25th, 2023 at Big Bear Park, 930 East Onyx Lane (9600 South) Sandy, Utah! There will be FOOD, cooked on site by our wonderful members, GAMES for adults and children, and a live AUCTION! We will be there from 11 AM to 3 PM, and hope to see you there!
(There is a rumor about a potential softball game between the youth groups and the Masons. Just a rumor at this point, but you never know.) Mark your calendars now and plan on joining us for this fun-filled, belly-filling event! Bring your family and friends and let's enjoy each other's company! More information (menu, pricing, etc.) will be forthcoming in the next few weeks. If you have any questions about this wonderful happening in the meantime, please contact Bob Hartman, Senior Warden, 801-803-0836 or
[email protected]
Charity Night at Utah Grizzlies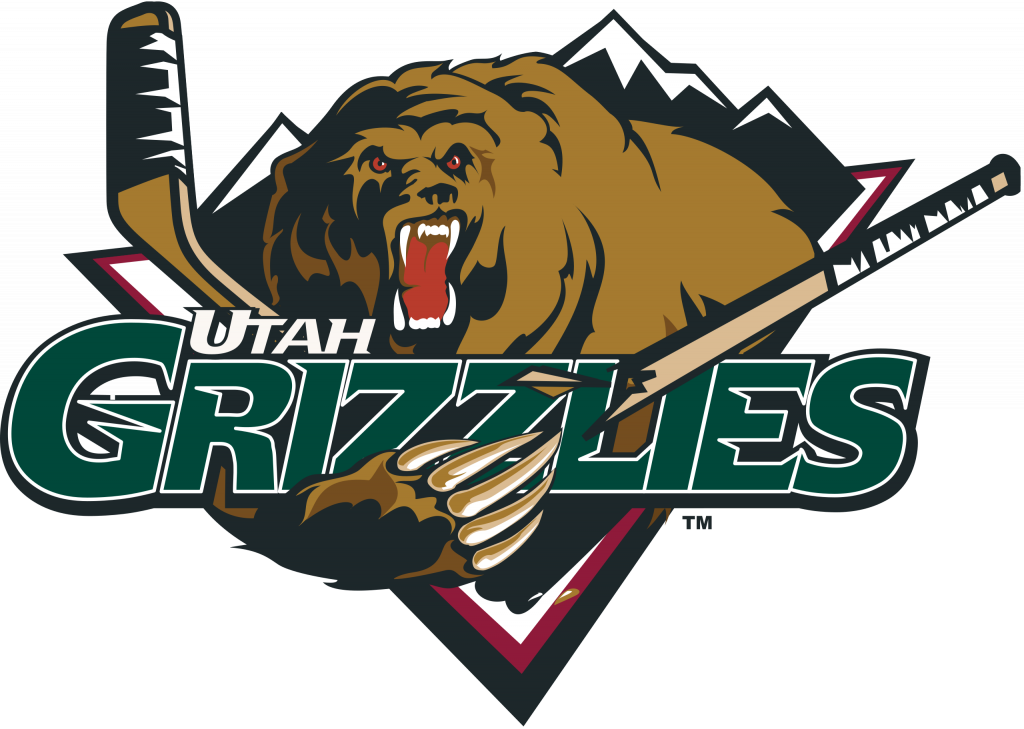 March 24, 2023 @ 7:00pm. Come for a fight. Maybe a hockey game will break out. 🏒
Adah Chapter of the Order of the Eastern Star is hosting a charity night at the Utah Grizzlies game. Proceeds will benefit the Midvale Masonic Temple
Tickets are $20. Please contact Lois Willie to RSVP. Deadline for tickets is March 14th!


Masonic Education
I recently came up on this interesting description of the Ancient Landmarks, from an English Freemason, and I though I would share it with you:
The Ancient Landmarks, which according to our traditions have existed from time immemorial, have never
been specifically defined but, rather, have been mentioned in only general terms, as those things which are ancient, cannot ever be changed, must always be held sacred and inviolate, and must always be adhered to. In terms of this definition therefore, nothing that can be changed without materially affecting the Craft or its system in any way, can be a landmark. Likewise, neither can something that can be disregarded with impunity.
An attempt to codify the Ancient Landmarks was made by Albert Mackey-the prolific American Masonic
Author-who included them in his massive Encyclopedia of Freemasonry. He listed 25 Landmarks, and many North American Grand Lodges have since adopted them. His list makes for interesting reading, although it is unlikely that many of his Landmarks would be acceptable in England, or perhaps by other constitutions.
An interesting example of what may happen when the Ancient Landmarks of the Order are breached is one within the original Grand Lodge of England. Less than three years after making the Ancient Landmark
regulation, the Grand Lodge (of England) itself changed what many regarded an ancient landmark-they
altered the means of recognition and words of the first two degrees. This was done in response to the
exposures that were beginning to be published, and as a means of stopping fraudulent entry into its lodges.
In a way, it was one of the matters that lead to the forming of the rival "Antient Grand Lodge'; the reasons they were known as the 'Antients' was that they purported to adhere to the ancient Freemasonry and, therefore, the Landmarks of the Order. This state of affairs was to remain for over 60 years, until the
United Grand Lodge was formed in 1813. A very pertinent example of what happens hen you deviate from the Ancient Landmarks!
Another example of the result of a violation of the Ancient Landmarks is provided by the Grand Orient of
France, which changed its principles during the nineteenth century, eventually dispensing with the need for lodges under its jurisdiction to affirm the existence of the Great Architect of the Universe. This was
considered as incompatible with the Ancient Landmarks, and as such in 1877 the United Grand Lodge of
England withdrew its recognition of the Grand Orient of France; a situation which stands even to this day.
The majority of Masonic writers on the subject are unanimous on two essential points. First, a Landmark
must have existed from time immemorial, the time whereof the memory of man runneth not to the
contrary and, secondly, a Landmark is an element in the form or essence of the Society of such importance that Freemasonry would no longer be Freemasonry if it were removed.
If used strictly, there are very few items that will pass this test and those that do pass will come under the
heading of regulations, customs, or principles. The following is an attempt to compile a short list of
acceptable Landmarks that would conform to the two point test in England-
Belief in a Supreme Being
The Volume of the Sacred Law is an indispensable part of the lodge furniture
A Mason must be male, free, and of mature age
Allegiance to the Sovereign and to the Craft
Belief in the immortality of the soul
What would, however, appear to constitute the Ancient Landmarks is not a list, but rather an issue, not
about what it is, but what it is not. Anything which could be rem,oved from Freemasonry and our rituals,
and which would still leave what we believe to be Freemasonry unscathed, would not be a Landmark. The
Ancient Landmarks must be considered, therefore, as those fundamental principles that characterize
Freemasonry, and in which sense are perpetual and unchanging.
Next month, I will discuss Mackey's landmarks!
Submitted by Worshipful Brother Robert "Bob" Hartman, PM