The Trestleboard is an official publication of Twin Peaks Lodge No. 32, which is a legally constituted Masonic Lodge operating under charter granted by the Most Worshipful Grand Lodge of Free & Accepted Masons of Utah. The Trestleboard is published for the sole and exclusive use of the members of Twin Peaks Lodge No. 32, and any other use is expressly forbidden.  The editor of The Trestleboard is Glen Van Steeter.  Submissions of educational articles or other announcements may be sent to the editor at [email protected], and if selected for publication, will be given full attribution. All submissions are subject to the approval of the Worshipful Master of Twin Peaks Lodge No. 32 and the editor of the Trestleboard.
Stated Meeting
March 7th:
6:30 PM – Pre-meeting Dinner
7:30 PM – Stated Meeting
Other Mondays
March 14th @ 7:00 PM: Degree practice
March 21st @ 7:00 PM: Degree Practice/Ritual Practice/Degree Night
March 28th @ 7:00 PM: Lodge Meetup and Dinner at R&R BBQ in Midvale.
Other Activities
Holidays and Observances
March 17th (Thursday): St. Patrick's Day

Sickness and Distress
After a nearly four month battle, Worshipful Brother Leland Keith Nielson succumbed to the effects of a stroke he suffered on November 14th, 2021. He passed on February 25th, 2022 at St. Mark's Hospital in Salt Lake City, Utah. Leland received his Three Degrees in 2011 and served as Worshipful Master of Twin Peaks in 2015. He was currently the 1 year Trustee of our Lodge at the time of his passing. Worshipful Master Ephraim Sng wishes to express his appreciation to the brethren who visited Leland, especially recently. His service to the Lodge and his wry sense of humor will be missed. He is survived by his wife Gail. The family has requested that Twin Peaks Lodge perform the Masonic Funeral Service for our departed brother. Specific information regarding the date/time and location will be sent out via email and Grandview post. Please keep Gail in your thoughts and prayers as she navigates this difficult time.

From the East
On the Secretary's Desk
Brethren all,
After a pretty hectic four months from November to February, the Secretary's desk is finally being cleared of items from sending out 2022 dues notices, mailing out dues cards, collating and filing annual returns, attending Annual Communication, etc.
At our Februrary Stated Meeting, Most Worshipful Brother Frank Baker agreed to perform the office of Treasurer as a pro-tem for the remainder of the 2022 Masonic year. I personally thank MWB Baker for stepping him to help out with this very important office.
I'd like to remind our brethren that 2022 Lodge dues were due on January 1st, 2022. There are still a number of our members who have not yet submitted them. Dues can be paid online at our website, or you can mail in a check. Dues for 2022 was $91. If you pay online or through Grandview, you will pay about 3% more to cover electronic payment processing. You can get more information about paying your dues by clicking here.
The Utah Grand Secretary, MWB Lon Tibbets, has asked me to remind you that before reaching out to him directly on any topic, that you should first reach out to your Lodge secretary, who will either provide the answer you need or get the answer you need.
As I am the Trestleboard editor as well, I want to let you know that our Trestleboards are now being published on our Lodge website. For you, this means no more searching on your computers for the emails or PDFs where they were emailed out. This also means that they have been formatted so that they are easy to read from your phone or tablet device. As always, I would love to receive any articles that you think that the brethren might be interested in, especially any that appertain to Masonic Education. All articles should be submitted via email to the secretary's email address. All articles must be of a general education nature. Nothing specific about the degrees or ritual! Also, the Master has reserved the right to review and edit any articles. If you submit an article, you will get full attribution on the article posting.
I'd like to thank Most Worshipful Brother Frank Baker for stepping up and filling in as our pro-tem secretary for the remainder of the 2022 Masonic Year. It's not too early to mention to the membership that if you would like to be considered for election to Treasurer for the 2023 Masonic Year, it's a great idea to let the Master and Wardens know so that we can start to cross train you for this very critical position in the Lodge.
Finally, I would like to acknowledge the officers and members of our Lodge who performed the Masonic Funeral Service for Worshipful Brother Lee M. Rogers on Wednesday, February 16th, 2022, and for Worshipful Brother Leland Keith Nielson on March 4th, 2022. They performed the service with solemnity and dignity as befits a the memory of a worthy brother.
Fraternally and cordially,
Glen Van Steeter, PM
Secretary, Twin Peaks Lodge No. 32 F&AM

Masonic Anniversaries
These are members of our Lodge who were raised to the Degree of Master Mason in the Month of March.
Brother James Guy Martin, raised on March 16, 1967 and has 55 years of service.
Worshipful Brother Robert Jacob Shearer PM, raised on March 28, 1977 and has 45 years of service.
Most Worshipful Brother James Donald Wadley PGM, raised on March 26, 1979 and has 43 years of service.
Brother John Gust Kaddas, raised on March 31, 1980 and has 42 years of service.
Brother Jon Wayne Harris, raised on March 11, 1981 and has 41 years of service.
Worshipful Brother Robert Paul Denning PM, raised on March 28, 1983 and has 39 years of service.
Worshipful Brother Edward Michael Kordas PM, raised on March 13, 1999 and has 23 years of service.
Brother Christopher Kingsley, raised on March 30, 2000 and has 22 years of service.
Brother Christopher Ernest Rogers, raised on March 29, 2003 and has 19 years of service.
Worshipful Brother Leon Werner Crockett PM, raised on March 20, 2004 and has 18 years of service.
Brother Bretton Leon Crockett, raised on March 18, 2005 and has 17 years of service.
Brother Joel K. Reifsnyder, raised on March 26, 2007 and has 15 years of service.
Brother Brandon Bill Albrecht, raised on March 12, 2012 and has 10 years of service.
Brother Frank Glade Keller III, raised on March 26, 2012 and has 10 years of service.
Brother Michael Charles Martin, raised on March 21, 2016 and has 6 years of service.
Birthdays
These are brethren who were born in March. Many happy returns, my Brethren!
Brother James Martin, born on March 7.
Brother Craig Smith, born on March 11.
Brother Sam Korologos, born on March 12.
Brother Daniel Overman, born on March 16.
Brother Lawrence McGill, born on March 24.
Brother Jeffrey Killpack, born on March 30.


The General Duties of the Lodge Trustees
What is a trustee? The general definition of a trustee is "an individual or organization which holds or manages and invests assets for the benefit of another. A trustee is legally obliged to make all trust-related decisions with the beneficiary's interests in mind, and may be liable for damages in the event that by act of omission or commission, fails to do so."
How does this apply to Twin Peaks Lodge? Our trustee's primary responsibility is to monitor our investments, to regularly report to the lodge the performance of said investments and to make recommendations and to enact decisions concerning those investments. An additional duty of the lodge trustees is to audit the financial records of the lodge at least once annually and to certify the annual financial report that is sent to Grand Lodge at the end of every year. The audit includes a review of the record of all disbursements and receipts recorded by the secretary in the minutes, the corresponding warrants and receipts, and the actual transactions in our various bank and investment accounts. Further, the trustees should be assisting the lodge officers in establishing and overseeing the long range financial plan of the lodge.
There are additional functions that the lodge trustees can perform with regards to the overall management of the lodge, working in concert with the Master, officers and brethren to establish and oversee programs that can benefit the philanthropic missions of the lodge, membership recruitment and retention, and advising the Master on the lodge budget.
In Twin Peaks Lodge, the Trustees do not have a set schedule for meetings. It is recommended that they meet quarterly. The Master of the Lodge may call a meeting of the trustees at his pleasure. Any trustee, at any time can inform the Master that they desire to convene a meeting of the trustees, and inaction on the part of the Master can result in the trustees convening the meeting without the Master's consent. Trustees meetings are open to all members.Who can be a trustee? Any member in good standing of Twin Peaks Lodge can serve as trustee. There is a common, but false belief that only past masters can serve as a trustee. A background in investment and finance is desirable but not required. Members who have run or managed businesses also have most of the knowledge needed to be a trustee. A temperament of prudence with regards to finances, an ability to identify risk, and the ability to envision how the lodge investments and financial programs fit in with the overall long-term goals of the lodge is very important to executing the duties of this office.
Submitted by Glen Van Steeter, PM – Secretary of Twin Peaks Lodge No. 32

Pythagoras
One of the most celebrated of the Grecian philosophers, and the founder of what has been called the Italic School, was born at Samos in the period of 586-69 B.C., the year 582 being favored as the probable one of his birth. Educated as an athlete, he subsequently abandoned that profession and devoted himself to the study of philosophy. He traveled through Egypt, Chaldea, and Asia Minor, and is said to have submitted to the initiations in those countries for the purpose of acquiring knowledge.
On his return to Europe, he established his celebrated school at Crotona, a Dorian Colony in the south of Italy, about 529 B.C., much resembling that subsequently adopted by the Freemasons. His school soon acquired such a reputation that disciples flocked to him from all parts of Greece and Italy. Pythagoras taught as the principal dogma of his philosophy the system of metempsychosis, or the transmigration of souls. He taught the mystical power of numbers, and much of the symbolism on that subject which we now posses is derived from what has been left to us by his disciples, for of his own writings there is nothing extant. He was also a geometrician, and is regarded as having been the inventor of several problems, the most important of which is that now known as the forty-seventh problem of Euclid. He was also a proficient in music, and is said to have demonstrated the mathematical relations of musical intervals, and to have invented a number of musical instruments.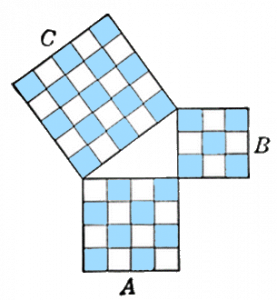 A graphic representation of the "Pythagorean Theorem" or the "47th Problem of Euclid" which states: "The sum of the areas of the two squares on the legs (a and b) equals the area of the square on the hypotenuse (c)."
Disdaining the vanity and dogmatism of the ancient sages, he contented himself with proclaiming that he was simply a seeker after knowledge, not its possessor, and to him is attributed the introduction of the word philosopher, or lover of wisdom, as the only title which he would assume. After the lawless destruction of his school at Crotona, he fled to the Locrians, who refused to receive him, when he repaired to Metapontum, and sought an asylum from his enemies in the temple of the Muses, where tradition says that he died of starvation at or near the end of the sixth or the beginning of the fifth century. Some claim the date to be 506 B.C., when he was about seventy-six years old.
— Source: Mackey's Encyclopedia of Freemasonry